Welcome to the Fairy Tail Not! Wiki
The Official Website of the Series, Fairy Tail Not!
This wiki is created by the founder himself, Arvee100smart.
Please note that this is stated as Pure Fanfiction in whereas, has canon-related-story of Fairy Tail.
Let us give thanks to the Official Creator, who created Fairy Tail himself, Hiro Mashima.
36 articles since May 2014
Fairy Tail Not!, or also known as FT Not or Fairy Tail Not itself, is an Adventure-Romantic, fan-fiction story series, written by Arvee100smart, that pertains to the world of Fairy Tail World; mostly in Natsu Dragneel's life. It was first written single-handedly in March 2014, and publish in the next month, April. There was a 2-week pause that causes users to realize that the story might discontinued, but by the following month, May, there were Three Chapter-Release respectively. As of February 2015, Ten Main Chapters are released. Including the others (Commentaries & Bonuses), 17 Chapters overall are present.
Fairy Tail Not! is published only in Wattpad.
Story So Far
Fairy Tail Not Revolves Around Natsu Dragneel As The Very Main Protagonist. Together With Lucy Heartfilia and Lisanna Strauss, they are the first-person narrator of the story. This story tells about uncertain events of the three of how they met, how they ended up in that situation and how the story will likely will give you a complicated imagination.
Recent Chapter Release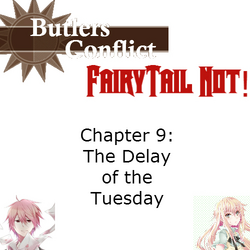 Chapter 9:
The Delay of the Tuesday
Please Be Alert For Any Spoilers You See
---
One morning, Lucy was called by Makoto and Daichi, as they said someone was on the gate, claiming to be Lucy's Butler. Lucy wonders how was that possible... since the person on the gate... is a boy?!?! (More Information)
Community content is available under
CC-BY-SA
unless otherwise noted.